"YC1 YC1" Where are you ? "I'm on my way !"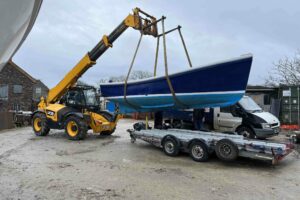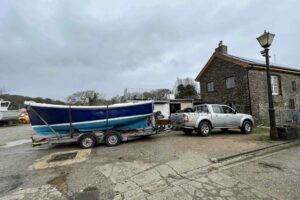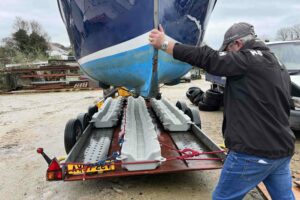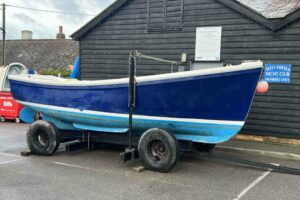 After a long wait, our new YC1 launch is on its way ! Malcolm Clark collected our replacement launch today. We are looking forward to seeing her upon her arrival at the club.
After some 60 years of service, the decision was taken by the Club to replace our launch "YC1", a traditional wooden craft built by Harry King & Sons' boatyard, in Pin Mill. A lot of time has been spent caring for this old-timer but regrettably, natural wear and tear from the intense work she was required to do, meant that she was becoming quite costly to maintain. The Club is letting her go with, undoubtedly, a pinch of sadness.
It goes without saying that the task of "finding an alternative" fell on the Moorings and Boatyard's team (namely Philip Woods, Paul Tucker and Richard Sharpe).
Malcolm Clark, of "Bosun Marine Services", joined in the assignment. After an intensive search and with the help of the website "Find a Fishing Boat", a contact was made. As luck would have it, a GRP hull "cygnus 19" (same as YC2), coincidentally came up on the radar! Approximately 6 years old, 2 owners from new and for sale at "less than a quarter of the price of a new one (£78,000)".
This sounded too good to be true! There was only one way to find out… A trip was arranged down to Fowey, Cornwall, where the boat was afloat. After a thorough inspection and a sea trial, Malcolm found out that Tony, the owner, had bought her to "use as a fishing boat for him and his wife". They love to go out fishing together. Unfortunately, being a couple of a certain age with aches and pains creeping in, they had to give in to reason and reluctantly decided to let go of their favourite pastime.
In total, the engine had approximately ran for 300 hours only and she had been kept in an excellent condition. Yes… it was for real and she was a true bargain! Without further ado, he drove back to present his report to the Club. An offer was made and Tony accepted. The deal was sealed!
Now, Philip and Paul (at Moorings & Boatyard), very much conscious, all along, to pledge further cost savings to the Club, were facing the logistics of bringing her back! A road trailer was hired along with the assistance of Bosun Marine Services. Since Malcolm had to go all the way down again… it was agreed that he would go via Lymington to collect the extra VersaDock cubes needed for M&B other major project: "the drive-on floating RIB docks". This meant a detour through the New Forest and 11 hours later, at last, he reached Fowey. By then, Tony had the launch laid up in a farmer's yard that Chris, the gentleman landowner, had turned into a boat storage. There she was… waiting for her new destiny!
The next morning, she was carefully secured on the trailer and Malcolm hit the road again for a rather tedious and slow journey back to Mersea.
Finally, Sunday the 15 th of January 2023, after a 760-mile round trip, the new launch arrived from the West coast to the East!
By Monday morning, Simon and Bart from Peter Clarke's boatyard, had carefully transferred her onto the Club's trailer, where she can be seen waiting proudly in the WMYC car park, by the shed!
Some modifications are required but soon she will be given a new lease of life afloat, ferrying members to and fro their boats.
None of this could have happened with out time and dedication from the following :
Philip Woods, Paul Tucker (Moorings & Boatyard team)
Malcolm Clark (Bosun Marine Services)
Brigitte Texier-Pauton (Website news post)