Thanks to the 9 boats and their crews who turned out last Sunday. It was a great sail, with hot sunshine, lovely breeze, and a good course with lots of wind shifts to make it interesting.
OOD Roger made the decision to have one start at 10.30 as all 9 were entered as white sail. Great to see the chairman of Cadet Week, Dom Barnes in Aquaholic, Simon Farren in his Dehler 34, a bit faster than a Sonata, and Peter Clements with his enormous Serendipity. Peter was suffering with not enough wind to shift his boat, but he did have a crew of 4 and no doubt even more wine on board than Clockwise. Up in the leading bunch were the Pangbournes with their lovely Symbol of Lleyn. Hope fully we will see some photos soon Peter?
Richard Swinton in Mischief of Colne in his first race of the year was also going well.  In the end it was Simon Farren in Shearjoy that took the chocolates another new entry for the white sail fleet. For the rest of  the series we plan to stick to the one start at 10.30 and when the IRC fleet arrives, we will extract their results or If the numbers get too large we can revert to 2 starts.
Worthy a mention are the crew of Wet Endeavour sailing on Friday night, in the DSC Friday night series, demonstrating social distancing Sonata style. One metre plus all this mitigation: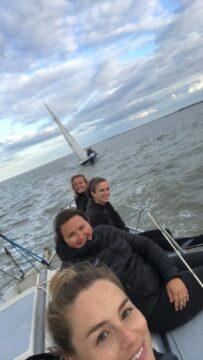 Mitigation 1: In the fresh air
Mitigation 2: Surrounded by sanitising medium
Mitigation 3: Sitting side by side
Mitigation 4: All smiling and enjoying themselves (we added that one……)
Thank you for the photograph.
Next Races are Friday night at DSC and Sunday morning 10.30am.