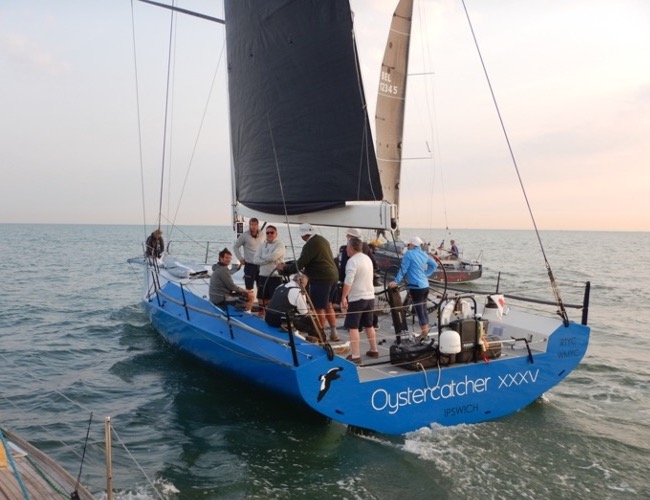 EAORA Offshore Regatta – Oystercatcher XXXV and Golden Fleece Winning for WMYC
The EAORA Offshore Regatta was held last weekend from 15-18 June and saw excellent performances from the two WMYC boats Oystercatcher XXXV (Richard Matthews) and Golden Fleece (Michael & Jason Wheeler).  In a field of 19 boats Oystercatcher won first overall and Class 1, winning the County Standard Salver and the Millennium Trophy, and Golden Fleece finished third overall and first in Class 3 winning the EAORA Secretary's Plate.
The event comprised 3 races: The East Coast Race over 120 miles from Harwich to Ostend: The Cannon Ball race from Ostend to Ramsgate and the Graham Wallis Trophy race from Ramsgate to Harwich.  The forecast for the weekend was for hot conditions and light winds, but fortunately, despite a few calm periods overnight on the way to Ostend, all 3 races were sailed in excellent conditions with winds of 12-20 kts.  With the wind in the South, the 2 shorter day races on the Saturday and Sunday were predominantly a downwind challenge, but enjoyable sailing nonetheless.   In a dominant performance, Oystercatcher won all three individual race trophies, and Golden Fleece was first in Class 3 in the Graham Wallis Trophy (second overall) and first in Class 3 in the Cannon Ball Race (third overall).
The full results are available on the EAORA website and race reports will likely be published shortly.