The Long Room
Did you know you can hire the Long Room?
The Long Room is available for hire for breakfast, meetings, receptions, parties, wedding receptions, buffets, lunches, dinners and presentations, from early morning until midnight.
With the sun setting across the moorings and creeks, you couldn't find a better view. With seating for up to 100 guests or with the sound proof divider the room can be split into two for meeting break out or for more intimate events.
All your catering requirements can be provided, from tea and coffee for a meeting to a three course seated dinner. We can also arrange entertainment for your event from a wandering magician to entertain you during a reception, to a disco or live music.
Members receive a discount off the published room hire rates.
If you need convincing further, below are comments received about the food in the Club and from events hosted in the Long Room.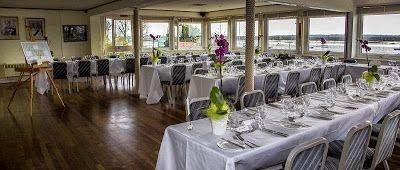 "All my guests were most complimentary about the arrangements at the club. My grateful thanks to you and the staff for making it happen"
"We and our guests enjoyed ourselves immensely and felt that your hard work was much appreciated by all who attended.  Compliments to chef and his staff – the meal was wonderful"
"It was an excellent dinner with good food, good wine and good company"
"The food and wine were delicious"
"Beautifully cooked and presented. Top quality ingredients. Absolutely delicious. I really rate WMYC's restaurant. It is easily the best on the island, in the Colchester area, and one of the best in the UK"
Photographs courtesy of Chrissie Westgate
For further information please call the office