Golden Fleece wins Houghton Cup for WMYC
Our congratulations go to Michael Wheeler and his crew aboard Golden Fleece who won line honours, 1st in Class and 1st Overall on Sunday representing the WMYC in the EAORA Houghton Cup.
This prestigious and impressive trophy was first awarded by the Crouch YC in 1911 and the race this year was organised by the Royal Burnham YC. The Race started on the RBYC line and consisted of a 37 mile route. Including a 4 hour beat to windward to Barrow No. 4 buoy, followed by a spinnaker run back to the RBYC line. An 18 inch rip in the genoa suffered at the start of the race  fortunately held until the windward mark.  The total race time was nearly 8 hours and Golden Fleece won by 4 minutes and 18 seconds on corrected time.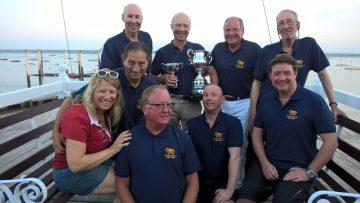 The crew consisted of WMYC members Michael Wheeler, Mike Berry, Philip Woods, Julian French, Nick Reay, Richard Sharpe, Rosemary Nunn and friends Simon Chidgey and Patrick Campbell.
Golden Fleece currently lies 3rd in the overall standings for the EAORA season.
Well done everyone and keep it going for the remainder of the season