Ladies Regatta 2018
September 29th 2018
The new date is 29th September 2018
The signing up sheets will be available in the WMYC lobby from 7/9/18.  A Pimms Party will take place following the racing.
Sponsored by Claire Francis Hairzone
The ethos of this regatta is that it is an event for lady helms who are members of West Mersea Yacht Club or Dabchicks Sailing Club.  We are pleased once again to welcome the sponsorship of Claire Francis Hairzone one of our local businesses.  Thank you Jo. On behalf of the WMYC we should thank Annabelle Porter who has greatly assisted us with the organising of this Regatta.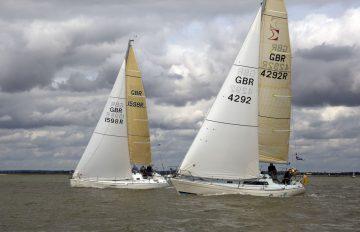 The schedule of racing being as such that Lady helms can participate in a Cruiser race in the morning followed by racing in an MFOB or a dinghy in the afternoon.  It is also possible to participate in a single part of the event. The most important criteria being that from the warning signal to the finish the boat is helmed by the lady, although male crews are allowed.
Boats not wishing to fly a spinnaker should declare their intention on the sign-on sheet before the start of the race and an adjustment will be made to their handicap). Dinghies – 2018 PY numbers will be used. MFOBs – TCFs from the current MFOB Association list will be used.
We look forward to as many lady helms and crews taking part as possible, however if you have some difficulty finding a boat to sail, please contact the sailing committee and we will try to help
Contact
Organiser
Annabelle Porter
Race Officer
Paul Jackson